WEALTH. Several people wrote on their needs for more dollar resources. I always thought a rich person was one who spent less than they had and a poor person was one who spent more than they had. So someone with a position that does not pay much may be richer than someone in a position that pays much more. I have always been amazed at how our society has kept so many poor by the borrowing cults that get money from rich lending cults.
I knew a minister that was poor when they were in the ministry. Later, they were poor when they were making three times the average social worker when they sold cars. They still spent more than they had. They still borrowed and went into debt. Interestingly they probably did more social ministry selling cars than they did in their church. Although they did not do much ministry for recovering from debt. So, if someone is poor in social work, I would not be surprised if they would still be poor as a CEO or whatever, because they would be using the same skills. We do better when we learn better.
HEALTH, WEALTH, AND HAPPINESS.
There are ways to be richer. One of the best books I have found on the subject of learning better to be richer is: "The Instant Millionaire, A tale of wisdom and wealth" by Mark Fisher. Audio. I will leave it to the students that want to be richer to do what it says. It is not just about wealth, it is also about wisdom. *******
LIFE 101, Everything We Wish We Had Learned About Life In School - But Didn't. Hardcover. Audio. DO IT!, Let's Get Off Our Buts, A Guide to Living Your Dreams. The same authors produced a series of books with good information that can be used for your advancement into more joy and health. LIFE 101, and DO IT! are available on line. ******
They also wrote Wealth 101, Wealth Is Much More Than Money that is not available on line or at Amazon.com. That may have something to do with the traps to be avoided. The authors may be still working out their salvation with some fear and trembling for any controlling and blaming parts of Life 102: What To Do When Your Guru Sues You by Peter McWilliams that is available on line. Life 102 is available at Amazon.com and is useful to consider how to watch for controlling or blaming in youself and your G. U. R. U.. **
If any of Life 102 is true, it Ain't Nobody's Business If You Do, by Peter McWilliams. "Ain't" is a wonderful exposition of part of the beliefs of the Libertarians that are needed to solve some of our society's illnesses. If one is master of oneself, one does not have a need to master others. I believe that we do not have the world the Libertarians visualize because there are not enough that have mastered themselves enough to show the way. Ain't Nobody's Business If You Do is available on line. ******
Part of the recovery secrets are free on line at How to Survive the Loss of a Love by Melba Colgrove, Ph.D., Harold H. Bloomfield, M.D., & Peter McWilliams. If interested you can order "Loss" paperback and hardcover from Amazon.com. More recovery secrets are on line in LOVE 101, To Love Oneself is the Beginning of a Lifelong Romance by Peter McWilliams and How To Heal Depression by Harold H. Bloomfield, M.D. & Peter McWilliams. LOVE 101 [out at Amazon 10/98] paperback and audio as well as Heal Depression paperback, hardcover and audio are available at Amazon.com with these links. The above links were available in July 1996. An excellent body of work. ****** except * for Life 102 since the authors have the challenge of doing more of what they have written just like I am still in need of doing what I have written.
Fire Your Shrink by Michele Weiner-Davis. Tape. This book has everything you need to know to assist your self, if that is all you need. If you need a real shrink, this book also tells you when you have found the right one. A real shrink is one that shrinks the problem and not you. The right one is one interested in brief therapy and one that knows that you are the one that is responsible for your own recovery. *******
Change Your Life and Everyone In It by Michele Weiner-Davis. No, you can not change others, but you can have dramatic changes happen when you make small changes yourself. You have the power to change everything about your life and have a great influence on everyone else in it. All you need is to find your confidence that you can be effective and you can learn new skills. This book can facilitate your confidence and be a reference for learning new more healthy skills. All you need to do is to change your mind, and keep at it. ******
Divorce Busting (A Revolutionary and Rapid Program for Staying Together) by Michele Weiner-Davis. Hardcover. You can either solve your problems or you can blame others. Divorce is about blaming others. Marriage is about learning how to solve your own problems so that your mate can solve theirs. Those that are ready to look for solutions and are ready to drop blaming are ready to have an improving marriage. ******
In Search of Solutions (A New Direction in Psychotherapy) by William Hudson O'Hanlon, Michele Weiner-Davis, William Hudson Ohanlon. Looking for Solutions makes mores sense. *TBD although I expect high marks.
The Talking Cure: The Science Behind Psychotherapy by Susan C. Vaughan, M.D. Her thesis is about how the mind is changed physically by coaching. *TBD although I expect high marks.
Beyond Conflict : From Self-Help and Psychotherapy to Peacemaking by Peter R. Breggin, M.D. [Paperback] "The author of Toxic Psychiatry details the common principles of conflict resolution on every level from self-help, psychotherapy, and family therapy through societal and international conflict. Along the way, Breggin discloses the impact and origins of guilt and anxiety and reveals how love can satisfy needs and resolve conflicts." "" From Amazon.com. *TBD although I expect high marks since I have ordered my copy. Hardcover.
The Heart of Being Helpful : Empathy and the Creation of a Healing Presence by Peter R. Breggin. *TBD although I expect high marks.
Talking Back to Prozac : What Doctors Won't Tell You About Today's Most Controversial Drug by Peter R. Breggin, Ginger Ross Breggin. *TBD although I expect high marks.
******* Love It, Read It, Do It, Be Full of Care.
****** Love It, Read It, Do It, Be More Careful.
***** Not on my List to Read Yet.
**** Not a Candidate to Read.
*** Cry for Recovery Work.
** Cry for Help.
* Scream for Help.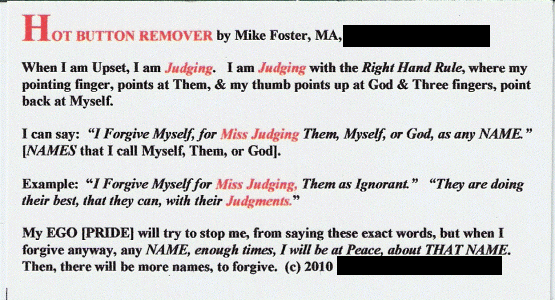 | Local Home index | Resume | Daily Hint | Bookstore | Links | Site Index |

Copyright (c) 1997,8 by Michael Foster, M. A.

at TOTAL-DC and http://www.recoverybydiscovery.com


24 October 1998