What is Anger?
---
Slide 2 of 34


WHAT IS ANGER?
Anger is the emotional energy that we generate to change:
what we have
to
what we want.
Anger is our energy to get what we want.
In this example the "Conan" is having a hard day at the office. He is busy on the phone when a tiger attacks him. He has his energy of terror and fear come up to help him defeat the tiger or to run away fast. He would rather be away on vacation with his lover instead of this tiger. He has his energy of desire to help him defeat the tiger. Then he can sell the tiger meat and tiger skin for money for his vacation. After all, this is self defense and he has to protect his boundaries.
What are the purposes of authentic anger?
One purpose is to keep us safe.
Another purpose is to enjoy life.
Another purpose is to make life better.
What other purposes for our energy of anger can you find?
WHAT IS THE SIMPLE PURPOSE OF OUR ANGER?
* The simple purpose of our emotional energy of anger is to create WHAT WE WANT
* Anger = Emotional Energy to create WHAT YOU WANT
EXAMPLE 1:
A couple want to create a happy marriage from a friendship.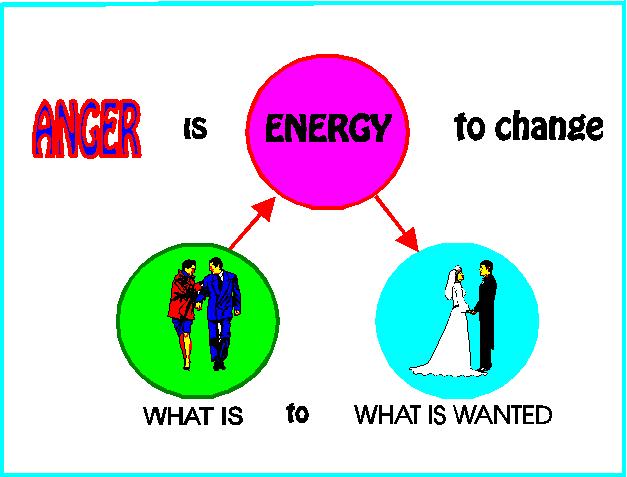 WHAT TRIGGERS OUR ANGER?
The process of triggering our anger is simple to understand. We Trigger our Emotional Energy of Anger when there is a Perceived Difference between WHAT IS and WHAT IS WANTED. What basic kinds of of Emotional Energy of Anger are triggered, will be discussed later.
WHAT IS = A couple going together.
WHAT IS WANTED = A more committed relationship.
The couple triggers their emotional energy to do the planning for their wedding and to execute their plans for a life together.
EXAMPLE 2:
A teenager wants to create a car for his driveway for a happy time.
WHAT IS = A teenager does not have a car!
WHAT IS WANTED = A car to drive!
The teenager triggers his/her emotional energy to go from a careless teenager to a teenager with a car.
EXAMPLE 3:
A depressed mother wants to create a happy life.
WHAT IS = A mother is feeling depressed.
WHAT IS WANTED = To feel good about her life.
The mother triggers her emotional energy to get out of feeling depressed. Unfortunately this is a double bind because her previous emotional energy was anger that was used to suppress her rage and she may fall into her same trap again. It may even be the best way to cope until she has better coping skills. It is the best way she knows.
What is done with the emotional energies of anger and what kind of anger is generated will be dealt with more in the next few chapters.
Some confuse TAKING with creating. We are CREATORS when we are authentic. We are TAKERS when we are corrosive. We sometimes create something to give for something else. Sometimes we create what we want directly. When we directly take from others without giving we still owe them something we created.