What to expect:
1. Confidentiality: No one needs to know what you tell me, nor do I tell them. As a participant in your spiritual process of recovery, I have the responsibilities of a spiritual consultant and an online publisher to not tell anyone what you tell me. Besides, I will not be taking notes. How can I know for sure, what you are telling me is true. It is just to your advantage to do so.
2. Clarity: It helps to know where you want to go. It helps to develop clarity on your ideal dreams, that you really want to live. I do not tell you what to do, because you develop your own plans of action for what you really want to do. That is because you have all the resources you need inside yourself. I am just helping you discovery your recovery resources within. All you need is some new life skills and ways of thinking to begin living your ideal dreams.
3. FACTS of LIFE Skills
Forgiving: To grow in determination, discernment, and direction.

Accepting: To facilitate healing.

Compassion: To learn understand.

Thankfulness: To learn why.

Sensing Spirit: To learn who you are.

of

Loving: Life at your peak.

In: That which is.

Full: Fully alive.

Enthusiam: With life fresh again.
4. Recovery is a Lifetime process, not an event.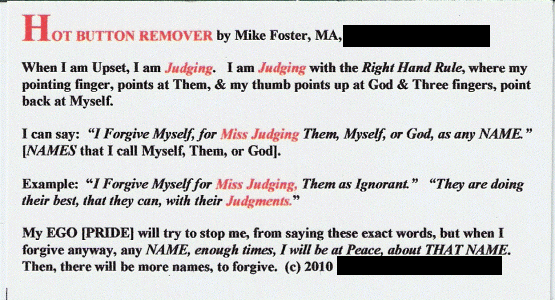 | Home | Resume | Bookstore | Links | Site Index |

Copyright (c) 2004 by Michael Foster, M. A.

at phone and http://www.recoverybydiscovery.com


050604