Vision and Mission:

Vision = A continuously improving world to live in for all of us.
Mission = I am learning and sharing the recovery processes I know.
What = Vision and Mission.
Why = I have experienced recovery from a "mental illness" called bipolar and then earned a masters degree in applied psychology. I experienced my recovery as a spiritual process. That is why I have a unique perspective to share.
When = I intend to share here daily. I share daily where I am.
Where = Here and where I am.
How = Coaching here and where I am.
What is your vision and mission? Have you had a positive mystical experiences that you want to share?: Coachemail

.
Want to hear a double dose from my friends.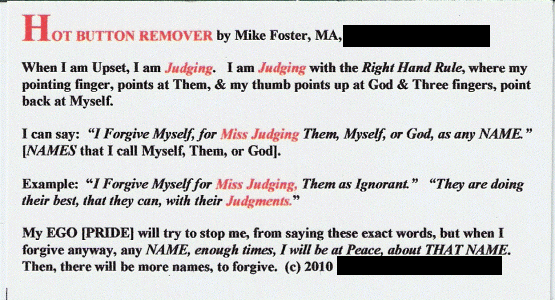 | Home | Resume | Daily Hint | Bookstore | Links | Site Index |

Copyright (c) 1997, 8, 9 by Michael Foster, M. A.

at and http://www.recoverybydiscovery.com


1.25.01