As a part of my recovery from bipolar I had some positive mystical experiences. The price of admission that I paid for my experiences was my negative experiences. The reason I had to pay those prices at that time was my limited practical spiritual skills.
I did learn how to integrate my positive mystical experiences into my recovery. I now know even more of how to do this from my masters program is spiritual psychology.
I am interested in any stories like mine to include in my information spiritual recovery. Check out these on line examples:
I am interested in facilitating a community of people with these experiences in common.
I am interested in working with anyone willing to use their positive experiences to recovery.
What kind of mystical experiences?

Oneness
Visions
Different States
Kundalini Process
Realizations
tbd

What worked for you?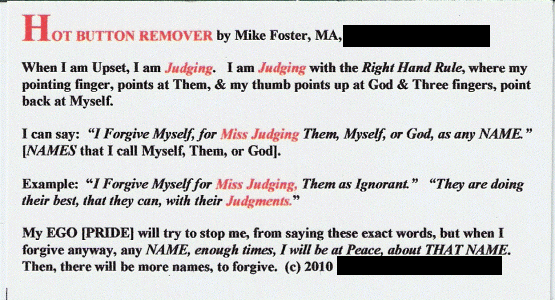 | Local Home index | Resume | Daily Hint | Bookstore | Links | Site Index |

Copyright (c) 1997,8 ,9 by Michael Foster, M. A.

at and http://www.recoverybydiscovery.com


1.25.01