Send feedback and links you value to: Robert Michael Foster MA

Some Places with Real Assistance:
1. Re-evaluation Counseling is also called co-counseling. Their concept is to share self help by counseling each other to discharge unprocessed emotions. Visit them at http://www.rc.org/ and learn some more about the recovery processes.
2. Some links to some free and some worth the price of admission recovery books on my books pages.
3. Dr. Roger Callahan has some rapid recovery techniques that may work for you at Thought Field Therapy.
4. The heart of the therapeutic recovery process is at http://www.focusing.org.
5. There is some real common sense at http://www.riverbend.com from Gerald Mann. It is refreshing to listen to his honesty and wisdom Sunday late night TV.
6. http://www.nlpinfo.com/ is a good place to start for information on Neuro-Linguistic Programming [NLP] at the NLP Information Center. I call it "Neuro-Linguistic Partnering". I do that to emphasize interpretations of "rapport and support" instead of "controlling". Like with most things, attitude and altitude are everything. NLP can be used and miss used. Like most things when they are miss used we are miss used. When we use it for the highest good of all concerned, we get the highest good for ourselves.
7. Here I am writing about a team of therapist that I have also had the pleasure of being with. That is Gay Hendricks, Ph.D. and Kathlyn Hendricks, Ph.D. that wrote several great books that are in the RBD bookstore. An example is "At the Speed of Life, A New Approach to Personal Change Through Body-Centered Therapy". Their approach is about integrating the physical to the spiritual. So is my approach and so are my tips. The spiritual is already integrated and all we need to do is to realize that in practical spiritual terms
8. I recently reviewed a recovery resource site. I was very impressed by the quality of the information there. The author's name is Clint Clark and he has written a resource guide entitled "I'm not OK, when . . . You're not." His description is: "A resource guide for parents and for adults who may have grown up in a dysfunctional family system." He has received feedback from people that suggest it would be a valuable parenting resource in addition to it's value as a 12 step and recovery community resource. I agree that we all could learn something from http://www.artdsm.com/recover/.
9. Description: Body-Mind Queendom offers number of original on-line psychological tests, huge collection of various tests on the net, free psychological counseling, articles on mental and women's health, and a free trial copy of software for women. Body-Mind QueenDom at http://www.queendom.com/ is a good place to find some recovery information just for the ladies as well as the men.
10. http://www.thrivenet.com/ has great links and how the thrive beyond recovery.
11. I ran into the Mike Williams Ministries, a real Christian minister in my terms, a rebel like Jesus that still has something to say to the pharasees at http://www.gospelrevolution.com. You will get a better idea of what Mike William's message of grace is about at http://www.angelfire.com/in/Jesus2/index.html. He has audio messages on how the church systems have missed JC's messages of the atonement by their teaching of law instead of grace. The current church I attend is at http://www.southpotomac.org and I hope that they will be soon sharing some of their high quality power point presentations that the pastor makes.
12. Go to http://www.shyandfree.com for some real assistance and understanding on shyness recovery.
13. For those that deal with the Autistic, http://www.autismtreatmentcenter.org/ needs to be on your resources list.
14. http://www.depression-guide.com/ A Complete Depression Guide - This easy-to-understand, sympathetic guide deals with the entire range of feelings and emotions, and shows that depression has many different forms as well as degree of severity with treatment options.
Want To Find Some Other Life Changes Coaches?
1. Go to the heart of the problems from your inner critic and team. Find out how to embrace and heal your inner team. Find out about Voice Dialogue International at http://delos-inc.com/.
2. gone
3. Find a coach from http://www.coachu.com.
4. I have been with the Hendricks a few times and can heartfully recommend their information. Check them out at http://www.hendricks.com.
5. Dawn Lipthrott, MSW, LCSW is a licensed psychotherapist with some interesting information including her spiritual interests at http://www.relationshipjourney.com.

Mar 01
6. Anton Lee Huger is the founder of Commissioned Ministries where he teaches how to disciple others in their reconciliation relationship with the lord most high at http://members.aol.com/c isciple/.
7. How about a coach to help with ADD recovery that has personal experience, see http://addcoach.com/.
8. When you are interested in a spiritual psychology approach try the information at http://www.questforself.com/ . You will find a good summary of their information and books when you are interested in more depth.

Mar 99.
9. When you are interested in recovery and looking at recovery from a family therapy point of view try http://www.familytherapynet.com/.

Apr 99.
Find Some of Your Own Assistance?
1. Dick B. has had eleven titles published on the history of early A.A.'s spiritual roots and successes. Dick is an active, recovered member of Alcoholics Anonymous, a retired attorney, a sponsor and a Bible student. Want to learn more, go to http://www.dickb.com.
2. Check out my bipolar information links page.
3. I am in a data base of healers at http://www.worldlightcenter.com
4. gone.
5. Yahoo's health index is at http://health.yahoo.com/mentalhealth/
6. The Enneagram can be a useful tool for recovery. A place to start on the web is at http://www.9types.com/.
7. http://www.ivanhoe.com/home/p_home.cfm. There, you will find a concentration on medical breakthroughs. This can be a good focus to see the medical how the system evolution is going and your attention can help make more happen.
Some Links to Links and Information for Recovery and Mental Health: [Warning: Learn to be aware of the belief system of the mental health system you are considering and your belief system. You are responsible only for your belief system. I want you to find the belief system that works for you. What works for me is that I look at all therapies from a spiritual perspective and then everything begins to make sense on what works and why.]
1. Dr. GROHOL's Mental Health Page - One of my early finds is moved to http://psychcentral.com.
2. I found another set of mental health links to links at "Internet Mental Health".
3. https://www.recoverybydiscovery.com/bipolar.htm has additional links to bipolar information.
4. Cyber-Psych! is a place to find therapist at http://www.cyberpsych.org/
5. Check this out, when you are interested in Sites With Soul.
6. Who knows where this Positive Place is now or what happened to this place?

7. Interested in Recovery Resources, http://www.serenityfound.org?
8. Welcome to Mental Health Net at http://www.cmhc.com. A professional and comprehensive site for mental health information and links . I like their opening page including a lighten up button that takes you to some cartoons. They have current news, disorders and treatments, professional resources, a reading room with a magazine and self help books, and managed care and administration.
9. First class source of information on biploar disease at http://www.pendulum.org, now getting into the alternative medical model that I like to call complementary.
10. Want to use your recovery of your self esteem to recover? Then go to In Focus from Self-Esteem Enterprises.
11. Interested in chating and in recovery from abuse, chronic and mental illnesses and addictions and in developing spiritual growth. Here you will find resources and a calendar for live support and recovery group meetings on topics ranging from addictions, abuse, grief, caregiving, depression, MS and more at http://www.transformations.com for Transformations.
12. I enjoyed my "Web Wanderings" at "Angel Lady's" site. Drop by for a good time and a lot of links.
13. Some great recovery "Software for Recovering People" and recovery information at http://self-helpsoftware.com/.
14. gone
15. I would like to tell you about the MiningCo.com. They are a very good index service on line. Their excellence is due to the fact that they have people with a passion for the subject that they are the host for. They have mental health very well covered.
They were looking for a psychotherapist to complete this section. Their address for their mental health index is at http://home.miningco.com/health/mental/mbody.htm.
16. Recovery and self improvement. Recovery is self improvement and we usually do not recover until we are ready to discovery our Self inside. It is a paradox of doing it for everybody and to end up doing it for yourself and everybody. So a directory of self improvement would be in order and there is an extensive one at http://www.selfgrowth.com called "Self Improvement Online".
17. "Welcome to Psych Web! This Web site contains lots of psychology-related information for students and teachers of psychology." That is true at http://www.psywww.com/.
18. http://www.wellmedia.com, "Wellspring Media", Has some interesting holistic links, newsletters, and videos.
19. "Magic Stream Journal ...a guide to emotional wellness: Magic Stream is a self-help and mental health resource. Extensive references for mental health professionals, consumers, family members and individuals seeking self-help information and an aid to personal growth. Combining an holistic approach to health, nutrition, and psychology with emotional wellness, Magic Stream seeks to provide a well rounded resource for wellness. Our philosophy is to do what we can to take care of our self both physically and mentally, make our self stronger, accept our self as we are, and seek help when it is needed."
20. When you can not find what you are looking for here, my friends at psych web have a great page on just finding about anything you need by using the web. They are "The Psych Web Find ANYTHING Page" at http://www.psywww.com/resource/findit.htm.
21. http://www.newfrontier.com had the new age frontier covered when you are interested in exploring what is there.
22. http://www.mental-health-maters.com had a wide set of links to resources for mental health recovery. [new 6.20.99]
23. http://www.healthlinkusa.com had a very extensive set of links on almost any health subject you might be interested in. [new 7.26.99]
24. http://www.smartmarriages.com/ is a good place to start in discovering how to recover our marriages. [new 5.19.05]
Interested in Finding More Inner Peace?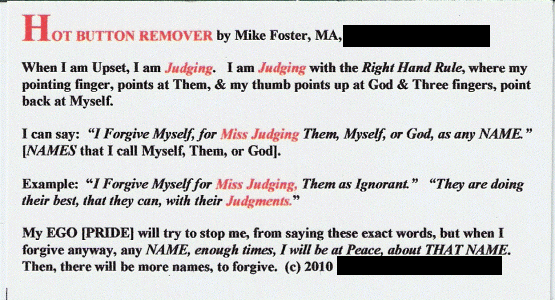 | DailyPage | Resume | Home | Bookstore | Links | Site Index |

Copyright (c) 1997, 8, 9, 00,03, 09 by Michael Foster at phone and http://www.recoverybydiscovery.com