Books on Therapy
The Game of Life Cookbook, Recipes for Better Living by Robert Michael Foster, MA. This electronic booklet has the big picture and specifics on how to learn how to live a better life with decreasing anger. It tells how to live a life of continuous improvement and why you have not been able to do so until now. This booklet is in HTM format readable by most popular web browsers. The package also includes: Healing Hearts by R. M. Foster MA. This electronic DOS booklet can show more ways to choose happiness and spirit. The Secret Steps to Recovery by R. M. Foster MA. This electronic DOS booklet picks up where Healing Hearts left off with details on the steps to recovery. Also included is The Secrets of Teamworking for MS Works (c) format, my-part.wks & my-part.wps as well as over 300 daily tips and other inspirational information. Unrated, since they are mine. When interested, send me an e-mail to the address on my card.
A Woman's Guide To Changing Her Man without his even knowing it! by Michele Weiner-Davis. There is good news inside for both men and women. Her techniques work as well for men as well as women. When women use her techniques their men will be happier and change. When men use her techniques their women will be happier and change, although she writes just to women. The techniques are generic. When people in business use her techniques their business will improve and change. When people in churches use her techniques the churches will improve and change. And on and on to our military, politicians, and whatever group I did not mention... ******* My wife and I both have seen her in action and like what we see. Anything we do to get better is in alignment with our lord most high within. Other books by Michele on my Second Page of Books.
In Search of Solutions (A New Direction in Psychotherapy) by William Hudson O'Hanlon, Michele Weiner-Davis, William Hudson Ohanlon. Looking for solutions makes mores sense. *TBD since I have yet to get my copy.
Toxic Psychiatry [Why Therapy, Empathy, and Love Must Replace the Drugs, Electroshock, and Biochemical Theories of the "New Psychiatry""] by Peter R Breggin, M.D. We have labeled our brothers and sisters going through a bad trip on the psychospiritual path as insane. We have harmed them with drugs, electroshock and mistaken attitudes. There are simple rational things we can do that will help them to grow out of their illness. We need your assistance and political voice to be added to make it happen! Get the book and get on with letting your voice be heard. ******* Other books by Peter on my Second Page of Books.
The Talking Cure: The Science Behind Psychotherapy, by Susan C. Vaughan, M.D. Her thesis is about how the mind is changed physically by talking. *TBD although I expect high marks.
Core Transformation [Reaching the Wellspring Within] by Connirae Andreas with Tamara Andreas. It is a pleasure to watch Connirae in action assisting most anyone to get what they want. From her years of experience she has developed a profound process to take all of our parts to the core of who we are and to heal them one at a time. Get it and get it, if you know what I mean. *******
Out of print: Why A Glance: Why Do I Eat When I'm Not Hungry? Do I Eat When I'm Not Hungry? paperback by Roger Callahan and Paul Perry. I know Roger will tell you this is the only way to solve eating problems. There is a lot of truth that if you do this and keep at it till you get it you will get it. The techniques in this book are also generic. They can resolve any fear, anxiety, panic, upset, etc. Roger calls it Though Field Therapy [TFT} and it is good stuff. Some people do not want to take the short cuts and want to keep their misery. I told Roger that his therapy could be considered a form of forgiveness and a master clear of our computers memory. He did not like that perspective at first, but I notice he is using more forgiveness in his process now. Recommend taking the Comforter along. Freedom from Fear Forever : The Acu-Power Way to Overcoming Your Fear, Phobias and Inner Problems by Dr. James V. Durlacher and Roger J. Callahan is in print. I have not read it yet, but I expect it to be of assistance. ******
The Rights of People With Mental Disabilities : The Authoritative ACLU Guide to the Rights of People With Mental Illness and Mental Retardation by Leonard S. Rubenstein, Robert M. Levy. Paperback. In recovery it is important to take full responsibility. Often you need to know your rights to take charge of your recovery and at the same time turn your recovery over to the one most high. I know that is a paradox. Have not read this one yet so I can not rate it although it is a ACLU book and I expect it to accurately tell about our rights.
Marriage Savers by Michael J. McManus. I am evaluating this book for my coaching of couples. Will rate after I go through and use parts of the book. My wife and I went to their presentation and liked them. *TBD
Lori Heyman Gordon, author of "Love Knots" and If You Really Love Me ..... which I suspect is the same book because amazon.com has a "Love Knots" by another author. It was my pleasure to be in one of her seminars and learn some more about anger resolution and communication. In her book is a Dialogue Guide that really helps in making communication deeper, and more healing. Her small book is very useful for turning the love knots into love yeses. She takes the irrational communication we do and finds the rational within it. She has an organization called "Pairs" (tm) that teaches clear couples communications. She has a web site at http://www.pairs.com. *******
There are miracles in your story if you decide to try Embracing Your Inner Critic by Hal and Sidra Stone. If your life is in misery you have an inner critic in need of embracing. You can check out the authors at Voice Dialogue International. They have a full set of support material and they are available for small groups. *******
Here I am writing about a team of therapist that I have also had the pleasure of being with. That is Gay Hendricks, Ph.D. and Kathlyn Hendricks, Ph.D. that wrote "At The Speed of Life, A New Approach to Personal Change Through Body-Centered Therapy". Paperback. Audio. Their approach is about integrating the physical to the spiritual. So is my approach and so are my tips. The spiritual is already integrated and all we need to do is to realize that in practical spiritual terms. Their web site is at http://www.hendricks.com. *******
Focusing by Eugene T. Gendlin, Ph.D. Tape. For the Professional. This book is available as a Bantam paperback pocket book. They did a strange thing. They looked at why therapy worked for some and not others. They found how successful processes worked. They called the process focusing on your felt sense. They are correct. I have seen the same elements in all kinds of successful therapy. The focusing process, if you do it by yourself and with others, will lead to recovering your feelings, your intuition, your inner child and your good life. More information available at http://www.focusing.org. *******
Reality Therapy by Dr.William Glasser, M.D. PaperBack. Pocket. Bill's book tells the basics of how to improve your life. The bottom line is to ask yourself how you like how you life is going. If you do not like it, make a plan to improve your life. Take action steps on your plan. Celebrate success and forgive yourself and others all your failures. Return to the first question, make a new plan, take action steps, celebrate and forgive. Love it. See what else I have to say about it here. ******* Reality Therapy in Action, Fibromyalgia: Hope from a Completely New Perspective, The Language of Choice Theory, What Is This Thing Called Love?, The Quality School Teacher : Specific Suggestions for Teachers Who Are Trying to Implement the Lead-Management Ideas of the Quality School in Their classroom., Getting Together and Staying Together : Solving the Mystery of Marriage, Counseling with Choice Theory, The Quality School, The Quality School Teacher, Schools Without Failure, Choice Theory in the Classroom, The Control Theory Manager : Combining the Control Theory of William Glasser With the Wisdom of W. Edwards Deming to Explain Both What Quality Is... . His new book Choice Theory reviews at Amazon.Com tell you a lot about William's work. You can not help thinking in more healthy ways after seeing the reality that Glasser sees. The full title is Choice Theory : A New Psychology of Personal Freedom in hardback. Then there is Positive Addiction, Staying Together : The Control Theory Guide to a Lasting Marriage, The Language of Choice Theory [with his wife],Control Theory in the Practice of Reality Therapy : Case Studies edited by Naomi Glasser. Fibromyalgia: Hope from a Completely New Perspective is one book where Bill has again expanded the boundaries of therapy, get this book first! Dr. Glasser has made his book on fibromyalgia, tell his story of what he now calls "choice theory", in a story format. What he tells does not just apply to fibromyalgia, it applies to most of our life challenges. This is a short book, that tells all anyone really needs to have a continuously improving life. There is a lot to be gained from telling how choice theory works by using these realistic cases. Then we can identify with the challenges faced by himself and the other people in his book. When you want to know more about the theory that this is based on, get the used "Stations of the Mind".
Now that he has his story in an enjoyable format, I would like to see a companion workbook. Because, once you know the challenges, then you really need to do the necessary work.
I have been a fan of Dr. Glasser a long time, since I first ran into his early book called "Reality Therapy". Since then I have been impressed by his "Stations of the Mind" and "Schools Without Failure" and many others. Then I ran into his practices in my masters program on applied psychology and found how useful his theories are in practice.
The Family Crucible, The Intense Experience of Family Therapy" by Augustus Y. Napier, Ph.D., with Carl Whitaker, M.D. Carl is one of the pioneers of the family therapy process. When you are interested in how family systems work and how we can help the whole family system heal, read this book. This book describes how the family healing process works when there are those that are willing to get into the family's struggle. They use a realistic story that will tell you much about your own families. First some background that you may not be aware of, where they discovered some family system patterns in families with schizophrenic patients. First they noted that the "patient" became worse when the mother visited. Then they noted that the mothers often had a similar personality pattern. Then they noted that the fathers often had a similar personality pattern. Then they noted that when the identified patient began to get better someone else in the family system began to get worse. So, it is easier to help an identified patient when the whole family comes to learn how to get better. That is why I have a page on getting well "in spite of" others, when the whole family is not ready to help. *******
Shadow Syndromes by John J. Ratey, M.D. and Catherine Johnson, Ph.D. The title also calls shadow syndromes "The Mild Forms of Major Mental Disorders That Sabotage Us" and it also says "Identify the hidden time bombs in your personality" and "Featuring Proven Treatments and Strategies That Can Change Your Life". This book is useful to see how we all have some percentages of the "disorders" in the mental illness diagnosis manual. This is a good way to continue your recovery process and let others go to continue theirs. *****
Radical Honesty, How to Transform Your Life by Telling the Truth by Brad Blanton, Ph.D. Brad's book is on how to recover from moralism [judgmentalism] by telling what you are angry about until you have transformed your anger into appreciation. A great book to read, but to be cautious of using his ways sometimes. Like most things in life, it depends on the circumstances. Finding better ways than telling the truth is in order when you or others are in harms way. The truth is that tigers can be dangerous when their toes are stepped on. Sometimes it is wiser to find where the tigers do not live. Live and let live makes more practical sense than telling the truth, sometimes. Proving that you can tell the truth no matter what would be an ego's game. Learning how to let wisdom come through is the game of the lord most high within. ******
Resolving Traumatic Memories : Metaphors and Symbols in Psychoteraphy Resolving Traumatic Memories : Metaphors and Symbols in Psychtheraphy/Book & 2 Cassettes. The Inner Child Work I am writing about is using metaphors to talk to our inner child and to help our inner child grow up. The most profound work I have seen is by David Grove. You can find some references to his work at http://www.devco.demon.co.uk/ and http://www.DavidGrove.com. I have personally been in his seminars a couple of times and found his work to be of great importance. When opportunities come up in coaching to assist at the metaphor level, I have seen very amazing results. Like all excellent therapy I find the same golden thread running through all of the therapy that works. I find respect, spiritual themes, peaceful loving acceptance and assistance. I find all of these in David's work and teaching. *******
Healing Spiritual Abuse: How to Break Free from Bad Church Experiences by Ken Blue. Ken has clearly defined the problems of spiritual abuse in the Christian church. The same legalism patterns exist in other religions and cults, families and businesses and countries. Ken has clearly defined how to begin to heal the Christian communities. The same applies to any community or family. ******
E R, Eye Movement Desensitization & Reprocessing by Francine Shapiro, Ph.D. and Margot Silk Forrest. Their book cover says: "The Breakthrough "Eye Movement" Therapy for Overcoming Anxiety, Stress, and Trauma". Notice that when we get intoxicated, we can have this eye movements thing happen involuntarily. We unconsciously roll our eyes in disbelief. We unconsciously shift our eyes to avoid the present. We could do these consciously. We could let go enough for our lord most high within to take over and begins to heal us. Of course we often get into a fear loop then, and create a problem out of our healing processes. The second thing that eye movements reminded me of is eye meditations. This is where we consciously move our eyes in many directions and just let go of what comes. What is happening in both cases is that we are breaking up images that we carry in front of us, in our unconscious. Sometimes when our trauma is too great, we see those images in our conscious mind. Then it is harder to break up those images and we may need a therapist that knows how E R works to help us in our healing process. Please read her book. ******
The Ten-Second Miracle, Creating Relationship Breakthroughs. by Gay Hendricks, Ph.D. Gay has produced another classic book that could change mankind when read and understood and used. Gay has kept it simple and yet challenging. Just like life is. *******
ARE YOU GETTING ENLIGHTENED OR LOSING YOUR MIND?, A SPIRITUAL PROGRAM FOR MENTAL FITNESS by by Dennis Gersten, M.D. Fortunately this doctor has some personal spiritual experiences and will be helpful to those patients and doctors that are ready to listen. This is a great step in the wiser direction. This book does give better perspectives from someone ready to be more objective and loving. This book is a must for any family and friends of someone going through a "mental illness" as well as the "patient".
This book does not go far enough, but it may represent as far as some doctors and families are ready to go. There are other doctors that have gone farther. In this book this doctor gives up on schizophrenics and uses meds. I know a doctor that knows how to help schizophrenics get well. Just farther along on the spiritual process. His name is Dr. McKenzie. ******
How to Stubbornly Refuse to Make Yourself Miserable About Anything--Yes, Anything by Albert Ellis, Ph.D. Albert can teach you to enjoy how you are, how thing are, how others are with his mind training. He has the ABC's of acceptance in psychological terms. Acceptance is the first law of spiritual growth. The strange paradox of acceptance is that once really accepted, change starts. *******
Nasty People by Jay Carter is a short book about how people try to invalidate us and by implication how we try to invalidate others. It is another book that helps us to awake to what is going on. I once handed this book to someone that was unconsciously invalidating me. It helped. ******
The Kundalini Experience: Psychosis or Transcendence by Lee Sannella. I found an earlier edition when I was in process of going through the Kundalini process and it is Transcendence. What most Doctors do not understand is that Psychosis is part of the Kundalini process. Also check out: "Kundalini Energy and Christian Spirituality: A Pathway to Growth and Healing" by Philip St. Romain. ******
Moral Politics: What Conservatives Know That Liberals Don't and Moral Politics : How Liberals and Conservatives Think by George Lakoff. I went to his presentation of his ideas and ordered my own copy of his book. Basically, the Conservatives are the "Stern Father" metaphor, and the Liberals are the "Nurturing Mother" metaphor. From these views of life flow most of their positions, that the other side has problems understanding. And since we have both metaphors in us, both sides can appeal to us and revolt us. The Christians that support Bush tend to be more the stern father type, you know, legalism. The Christians that support Kerry tend to be more the nurturing mother type, you know, grace. Moderates support both grace and legalism, since they know that they have both metaphors active and they have the largest challenge in deciding who to support. The paradox is that with grace first, legalism becomes transformed, but with legalism first, grace is not found. *******
DANCING THE WHEEL of Psychological Types is an excellent book on the Jungarian psychological types, and how they fit together with the spiritual traditions of American Indians. Hidden in the words of this book, are the secrets of transformation, to the whole person you were meant to be. *******
When Going Through Hell... Don't Stop! A Survivor's Guide to Overcoming Anxiety and Clinical Depression (Paperback) by Douglas G. Bloch. His short story reads much like mine. Wounded at birth, treated by the medical system and medications that did not work for him, recovered by spiritual processes. More than his detail experiences, he has gone on to tell us what worked for him and an extensive guide for others going through their personal hell. ******* so far. I'll update this book report as I go along.
---
******* Love It, Read It, Do It, Be Full of Care.
****** Love It, Read It, Do It, Be More Careful.
***** Not on my List to Read Yet.
**** Not a Candidate to Read.
*** Cry for Recovery Work.
** Cry for Help.
* Scream for Help.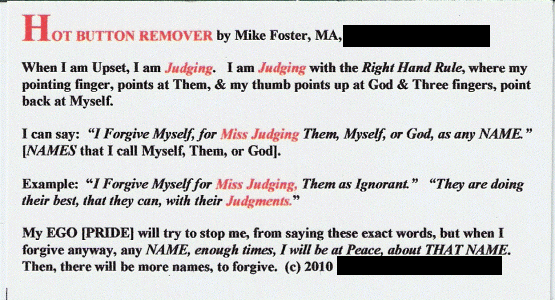 | Local Home index | Resume | Daily Hint | Bookstore | Links | Site Index |

Copyright (c) 1997,8,9,00, 09 Michael Foster at phone and http://www.recoverybydiscovery.com


9 Sept '09