Our Creator,
Which Art in Heaven Within,
Hallowed Be Thy Names.
Thy Kingdom Comes,
As Thy Will Is Done,
In Earth, As it Is,
Done In Heaven.
Lead us This Day,
To Our Daily Bread,
We are Forgiving our Debts,
As You have Forgiven our Debts
And Lead Us To Thy Kingdom,
For Thine Is The Kingdom,
And The Power,
And The Glory,
Forever.
Amen.
(C) 2009 Mike Foster @ http://RecoveryByDiscovery
We are now post Redemption of the World and have the Holy Spirit to lead us to The Kingdom.
Link to Traditional Lord's Prayers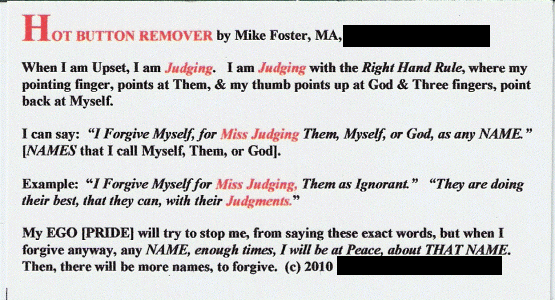 | Local Home index | Resume | Daily Hint | Bookstore | Links | Site Index |

Copyright (c) 1997,8, 2000,05,09 by Michael Foster, M. A. http://www.recoverybydiscovery.com

7 SEPT '09