| Index | Bookstore | Links | Resume | Presentations | What To Expect | For My Grandchildren |
For other soapbox issues see my soapbox for my grandchildren page.
For some new Links here.
I Foster Discovery for Recovery of the Life of Your Dreams!
When you would like ask questions, or contribute some of your wisdom, or want to make some comments or tell your success stories, write me something. I appreciate any feedback, questions and suggestions that you have. Use the e-mail address on the below card. When you are interested in specific subjects or everything tell me in your e-mail and you may get some email.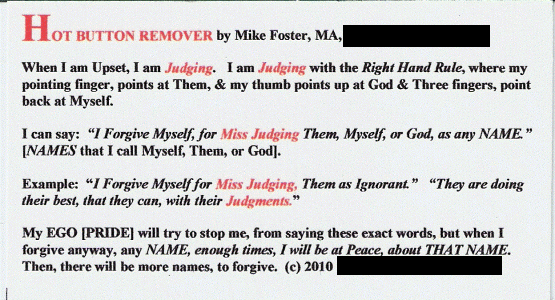 My Directory of Directories & Lists of Helpful Websites
I am continuing a my Directory of Directories. Please tell me your favorites.
Leadership
I am starting a page on leadership. My first link is to some articles by Steven Covey. His book is in my recommended books library. Tell me what works for you.
Published since June 1996. This is past my twelth year anniversary, since starting my web pages. I started my daily page, because it is useful for me to keep learning and sharing recovery tips or secret for my own spiritual growth. We only need one secret to work on and let it work on us each day. They are secrets because they are usually the opposite of what the majority of society teaches. They must be secret, because they are not commonly used. A friend of mine once said "Common Sense is not much in Common.". Now that I have grandchildren, I am also writing for them. I would have really liked for my grandparents ,and my parents, to have passed on more of what they learned.

| Local Home index | Resume | Daily Hint | Bookstore | Links | Site Index |

Copyright (c) 2004,5,6,7,8,9,10 by Michael Foster, MA
http://www.recoverybydiscovery.com